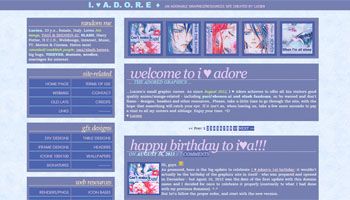 Title: Iadore
Category: Graphic
Staff: Lucien
Warnings: Suggestive material
Ratings:

Quick Summary: Iadore is a graphic site run by Lucien. It offers a wide range graphics and resources for webmasters from web layouts to names, color palettes and more. Lucien has a unique style consisting of bright colors and strong definition. Iadore not only has quality but quantity, there is a lot of stuff available and probably one of most loaded graphic sites out here.
**Has since been closed**
Presentation
Rating:
The layout is spread out beautifully and centered, making placement fantastic! The colors are while bright but non-clashing or irritating for the eyes. The the site is layed out nicely with everything under effective categories and readable text. Overall, I would say presetation is very strong. The current layout, in my opinion, compared to previous skins worn by Iadore is a bit simple. It does not showcase the lovely textured and customized images offered by Lucien's premades. While the 5 avatars showcased are well-made, they do not do justice for representing what the site has to offer.
Navigation
Rating:
Not much to say aside from really well done. Everything is located in one area and not all over the place. The navigation bar is twin-set, saving a lot of room so the its not an endless scroll. My only pointer is possibly shuffling the links around a bit to find a way to remove the dead end links and possibly removing the 3 seperate links to Art-Icons and just make it just one out going link.
Content
Rating:
The most stand out feature of Iadore in my opinion is the sheer variability and possibility of choices it offers. Iadore has lots of well made graphics with signature styling of Lucien! The amount of content on this site is probably its biggest highlight. If you are looking for a table or div layout, this is your site! I would like to see more iframe designs as feel this section is a bit smaller compared with the other ones!
Vibe
Rating:
Iadore channels a good vibe in my opinion. Some big graphic site webmasters can be intimdating to talk to but Lucien appears pretty friendly. She visits her pals regularly and offers her visitors some insights about who she is through an about page. One of biggest loves is that unlike some graphic site, she does not have a gigantic rules page where you have to read through it to find a secret link to the graphics. She only has a slight reminder for visitors to follow rules so people using her graphics don't feel like they are criminals or something!
Reviewers Final Thoughts
My Favorite part: The huge amount of different graphics available for vistors.
Suggested improvements: Creating only 1 link out to Art-icons, add an additional image to the main layout to showcase what the site has to offer
Posted on 2015-Sep-15 by Mochi