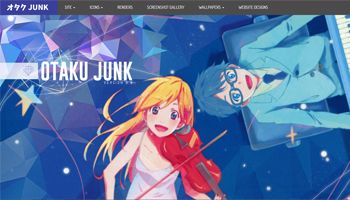 Title: Otaku Junk
Category: Graphic
Staff: Miria
Warnings: None
Ratings:

Quick Summary: Otaku Junk is a very solid anime graphic site created and owned by Miria. It has quality content for web designs and web owners alike. Some highlights include a rich PNG collection, icons and web templates. The style of this site is clean cut, sharp, professional and highly reminiscent of wordpress-like designs. Miria is incredbily friendly, professional and a pleasure to interact with. I could only find a few suggestions for this site.
Presentation
Rating:
The main template of the site is excellent, the navigation is easy to find, condensed and it has a drop down menu where visitors can easily find the content they are looking for. I love the fact that "excess" stuff like polls, vote buttons, etc are sort of neatly packed into the bottom of the site. The color theme is excellent, white, greys and black are very professional colors. The design is sharp, clean and professional looking, Miria's style is clearly displayed in her main template which is always a bonus because it gives people an idea of what type of designs they are likely to find. My only complaint/suggestion is that the header is overwhelmingly large. The header is so big that when I screencap the site, it is the entire screenshot. I suggest trimming the header width-wise like in "Hyakki Yakoushou Template", the edge-to-edge look would work than. You can also make it work by having the focus a bit smaller and the rest is just a solid color lilke in "BROKEN TONE". Though truthfully, I prefer a designs that are fairly compact and proportional like "ARAKAWA", but with that said, the edge to edge look is unqiue and more interesting.
Navigation
Rating:
The navigation of this site is very very good, it is condensed but easy to access with the drop down menu. There isn't much for me to say, its well done. Though I will point out, at the bottom of the site, there is a second set links for the site section, it doesn't take away anything, just not sure why there its double.
Content
Rating:
The resources on this design is a solid 10/10, the quality and quantity is all present. There is a excellent selection of PNGs, icon bases and screencaps. You can tell Miria worked really hard on these. The web designs itself is heavily reminiscent of wordpress-like themes, its great for sites that want sharp, clean and professional looking designs. My suggestion is that, it might be worthy to consider expanding outside of the monotone white on grey/black looks. The past 10 designs uploaded all had a variation of a white content area with a grey tone background. You might find some enjoyment in incoperating more color into your web template collection, not only will it more interesting for visitors to browse but show stronger variation and design skills. Designs like "EYES ON ME" make browsing more interesting because it switches things up, consider more darker designs like "Amplified Night : AFTER DARK" because they constrast your exisiting designs. The wallpapers and icons are very solid with good variety and quantity.
Vibe
Rating:
Miria gives a excellent vibe to Otaku Junk, she is so very friendly and she actively replies to comments in cbox. The fact that she takes suggestions and have a poll shows she is involved and interested in what her visitor wants. Otaku Junk is a very enjoyable site to visit.
Reviewers Final Thoughts
My Favorite part: Well crafted resources for web designs, sleek sharp designs for sites that like professional looks and friendly webmiss.
Suggested improvements: Try trimming your header and incoperating more variation into your web templates!
Posted on 2016-Apr-05 by Mochi