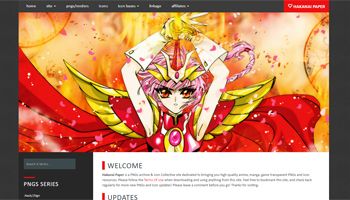 Title: Hakanai Paper
Category: Graphic
Staff: Brandi
Warnings: None
Ratings:

Quick Summary: Hakanai Paper is a quality PNG and icon source ran by Brandi who offers a variety of anime-oriented PNG cutouts and icons. The host boosts a impressive 200+ PNG collection and, some 3000 icon bases and nearly 700 icons all created by a Brandi. The site is a excellent resource for anime graphic designers and icon makers alike.
Presentation
Rating:
NULLED
Since the main template is from Otaku Junk, the review for this section will be nulled.
However, I will mention that the chosen template is a good format, the layout is a good size, concise, professional and easy to navigate. Brandi did a good job with color selection, the bright header looks good against the dark background and a white content area makes the printing easy to read.
Navigation
Rating:
The navigation is excellent with the site. The chosen template already offers a easy to navigate structure but Brandi did a good job sorting her content. The main focus of her site, PNG has two ways to be accessed, on the top bar as well as the side bar with the series listed out. I find this to be a excellent sorting technique, it allows visitors to quickly access what they are looking for without having to scroll through pages of additional content. Similar the icon bases have the a series sorting system which allows easy access. The actual premade icons does not but would benefit.
Overall, navigation is very solid.
Content
Rating:
The content on Hakanai Paper is excellent, the PNGs are clean cut and come in their original sizes (not shrinked down). Brandi has covered many series and with over 200, the quantity is there too. Her icon bases are also excellent, there is variety in the cropping, there are close ups, far aways, different perspectives, etc (sometimes icon base content suffer from face-only, where every icon base is just a face). Her premade icons are well done too, many different designs are show-cased with some animated (which is always a bonus!).
I will say though, as a designer, I am less inclined to use some of the PNGs not because they are not well made but because there are more attractive images and more popular series to to pick from. I think it might be worthy to pick more "artsy" images to cut from or popular series like Black Butler, Sword Art, etc
My only other suggestion is since she rans a resource site, it might be worthy to have a suggestion box where potential PNG-users can suggest a series they are interested in, by no means does she have to complete them but it might be worthy to have sought after series that would increase the frequency of her site being used.
Vibe
Rating:
Brandi is a very friendly and excellent webmistress. She updates fairly regularly and can reached easily through her cbox. She frequently replies to all emails and cbox messages!
Reviewers Final Thoughts
My Favorite part: A impressive resource site for anime designers. Excellent PNG collection and icon bases, quantiy with quality.
Suggested improvements: Since PNGs are selected based on either the attractiveness of the image or the popularity of the series, I recommend having a suggestion box to see what people are looking for.
Posted on 2016-Aug-08 by Mochi